The next time you're standing in a line at the check-out, a fast food place, or a movie theater, take a minute to reflect on what you're doing. Although standing in line can be a pain at times, the practice is really quite amazing. (I want to thank Barbara from Winchester, VA for sending me the article on standing in line by Matthew Malady in The New York Times Magazine.)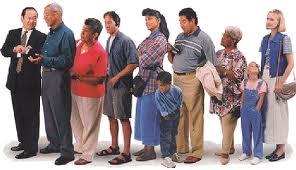 Think about it. You want something or need something. You see other people standing and facing the same direction. They are all waiting for the same thing you need or want. So you locate the last person and stand behind that person. That's your spot in line. Soon others start standing behind you. Then the line begins to move forward. At some point you become the first person in line. It's your turn–to purchase groceries, to order your food, to buy your ticket for the movie.
Notice, you do not have to arm wrestle someone or answer a tough question to determine who in the group goes next. No, you just stand in line and wait your turn. It's as simple–and as beautiful–as that! The author of the article calls standing in line one of human beings' "most noble collective achievements." Why? First of all, it's so fair. You wait your turn like everyone else. It's democratic too. When we stand in line we are all equals. The middle-aged man in the three piece suit waits his turn behind the teenage girl in shorts and flip flops.
Waiting in line also underscores the fact that we are all in the same boat. Isn't that an awareness we desperately need today? The ecological movement, for example, is rooted in the awareness that we are all inhabitants of the same "boat" called planet earth. This "same boat experience" can nourish our compassion and understanding. It can also bring people together and foster community. (We women often have to stand in long lines to use the restroom. I've had some great conversations with other women—often complete strangers—while waiting in line with them!)
But something is happening "in the world of lines." Some places are allowing people to skip standing in line altogether–for a fee, of course. We see this practice at places such as airports, amusement parks, and ski resorts. You can buy line-skipping passes for $25 at Sea World San Antonio and $80 at Universal Studios Hollywood. Some people see this practice as "unfair" because it caters to the wealthy.
I said that standing in line seems "fair," but are there times we should put fairness aside and freely give our place in line to someone else–perhaps an elderly person or someone with a disability or special need?
I'd be interested in knowing what you think about all of this. What has been your experience of standing in line?
Many years ago I read a parable about the Final Judgment. It described a large group of people standing in a long line waiting to get into heaven. They all have waited a long time–and the line has barely moved. They're hot and weary. Suddenly they see an angel escorting a motley group of people to the head of the line. The people in line begin to grumble. Then they openly protest. "It's not fair!" someone screams and others agree.
"We've been waiting for so long!" yells another. "Those people should get at the end of the line–like we all had to!" hollers a third person. Soon the entire line is up in arms over the situation.  Suddenly a big gong rings. The crowd falls silent. Then St. Peter announces that the people in line have just had their Particular Judgment. Because they would not give a break to these other people–the poor and needy–they would have to wait a while longer before they could enter heaven. Why? Because their love was not yet expansive enough for heaven.
It's a story I sometimes recall when I'm standing in line.
PS: Happy Fourth of July on Thursday! If you want to read something on freedom, see my blog "Reflection on Freedom" for July 2, 2012.