The Book of Proverbs is a collection of pithy sayings that encapsulate the wit and wisdom of the Hebrew people. There's the classic one: "The fear of the Lord is the beginning of wisdom." Then there's the humorous one: "Like a gold ring in a pig's snout is a beautiful woman without good sense." Today I'd like to treat you to some proverbs from all over the world that offer us wisdom for our daily living.
"In the midst of great joy, do not promise anyone anything. In the midst of great anger, do not answer anyone's letter." (Chinese)
"The reverse side also has a reverse side." (Japanese)
"It is in the shelter of each other that the people live." (Irish)
"For the benefit of the flowers we water the thorns." (Egyptian)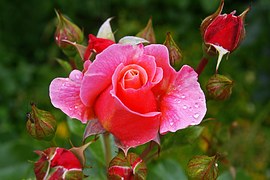 "Grain by grain, a loaf; stone by stone, a castle." (Bulgarian)
"Speak little, speak the truth; spend little, pay cash." (German)
"If you can't do as you wish, do as you can." (Spanish)
"A lie travels around the world while the truth is putting on her shoes." (French)
"The last seven hairs are combed with special care." (Russian)
"If you wish to know who a person is, place him or her in authority." (Czech)
"If you run after two rabbits, you won't catch either." (Armenian)
"When a thief kisses you, count your teeth." (Yiddish)
"He who is outside his door already has a hard part of his journey behind him." (Dutch)
"When a blind person carries a lame person, both go forward." (Swedish)
"Hold a true friend with both hands." (Nigerian)
"After ecstasy, the laundry." (Zen)
"A turtle travels only when it sticks its neck out." (Korean)
"God save me from a bad neighbor and from a beginner on the fiddle." (Italian)
"Habits are first cobwebs, then cables." (Spanish)
"She who cannot dance, blames the floor." (Hindu)
"Bad news goes about in clogs, good news in stocking feet." (Welsh)
God is the source of all wisdom. This song by Keith and Kristyn Getty seems a fitting companion to this reflection. It's called "The perfect Wisdom of Our God."
Of all of these proverbs above, is there any that you struck you? Why?
Do you have any other proverbs that you like? Would be willing to share one of them with us?
PS: Happy Fourth of July to all my American readers! And Happy Canada Day (July 1) to all my Canadian readers!
Thank you all for your prayers for the retreat in Maggie Valley, NC last week. And thank you to all the participants who gathered from near and far (even Maryland and Florida!) for this retreat in the beautiful Blue Ridge Mountains. I enjoyed being with all of you!